Curriculum Principles
School Improvement Model
As a Trust we believe that every role is fundamental to school improvement and when working in collaboration with shared aims we can achieve our strategic objective of 'flourishing communities'.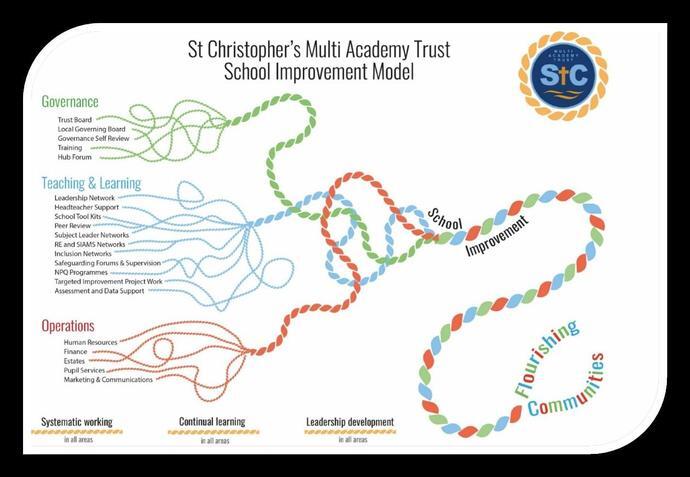 Curriculum Principles
As a Trust we have a set of principles that underpin our curriculum, rooted in the Cambridge Primary Review. As a Trust we believe that the aims presented by the Cambridge Primary Review (2009) are an essential basis for planning the curriculum and the cornerstone of school life as a whole. These aims in practice in our Trust schools demonstrate our commitment to develop flourishing communities. We want to create the best provision possible for every child in every Trust school.
Attend to the individual's well being.
Encourage and promote respect.
Foster Skills.
Encourage children to establish who they are and to what they might aspire.
Enable children to become active local, national and global citizens.
Secure active and enthusiatic engagement.
Facilitate exploring, knowing, understanding and making sense.
Celebrate culture and community.
Excite imagination.
Enact Dialogue
Curriculum Design
Each school has the autonomy to design a curriculum that meets the needs of the school's unique characteristics and needs of pupils.
Schools are expected to design a curriculum that is at least as ambitious as the national curriculum and ensures a breadth of curriculum coverage and which meets the needs of all pupils especially those who are disadvantaged or who have SEND. Each schools design and develops its own curriculum intent, setting out the knowledge and understanding that pupils will acquire. Schools have flexibility to choose the approach that works best for them, however, we have a number of curriculum tools that schools can choose to adopt and adapt to their context should they wish. These tools include a Trust Scheme of work for Science, the Connected Curriculum in History and Geography, both supported by a curriculum progression. We also have curriculum progressions for Art and DT and set of CPD resources and plans that schools can adapt. In writing we use a Teaching Sequence approach developed by the Devon English Team, and Trust Reading and Writing Curriculum progression that supports that. The availability of these tools supports teacher workload and wellbeing. We are currently drawing on the expertise of other teachers and leaders in the Trust to develop other curriculum progressions and CPD resources that schools can adopt and adapt. We have Trust Maths Principles which inform curriculum design and lesson delivery.
Curriculum Continuing Professional Development
We are fortunate to work with a number of curriculum experts who work locally and nationally to provide ongoing training and support to our subject leaders and teachers. They are supported by our Lead Practitioners, who have been identified for their high quality leadership and classrooms practice and who can coach and support teachers within a particular curriculum area.
Reading
Early reading and phonics is given high priority within Trust schools. Most schools use with Read Write Inc, or Little Wandle Letters and sounds to plan and teaching phonics. As a Trust we have a Trust Lead who is responsible for developing and securing practice and they are supported by a number of Lead Practitioners, class teachers and reading leaders who have been identified as having expertise in this area. Our approach to teaching reading at key stage 2 is flexible. However, each school has its own agreed pedagogy. We advocate 'Re-think reading' a guided or who class approach to reading teaching. We want children to love reading, enjoy books and see it as a gateway to the wider curriculum and derive pleasure from it. We feel strongly that children should know a range of authors and texts and be excited to reading through being exposed to high quality texts, meet authors, develop and widen their vocabuarly and delight in the written word.